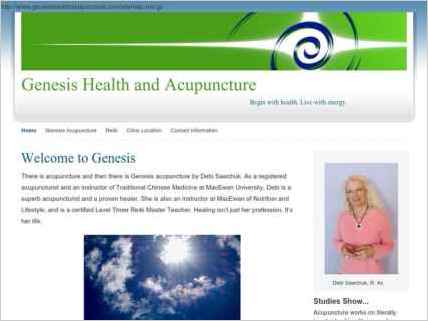 Sandvox was the choice for MacBook Pro to build her website. She chose the "Blueball Synergy Corporate" design for the site. People may want to visit the site if they are looking for acupuncture in sherwood park, alberta.
Sandvox features used for this site:Site Map, Contact Form, Google Integration
Visit Genesis Health and Acupuncture »
---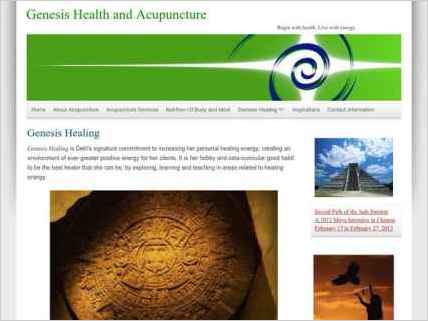 Describe your website.
My website is designed to tell people about my acupuncture services, my genesis healing workshops and to inspire people with inspirations. My goal is to promote and attract people to my registered acupuncture practice by allowing them to learn about Genesis and about what acupuncture therapy can treat.
Who is the target audience for your website?
People from Sherwood Park, Fort Saskatchewan, Edmonton, Alberta and surrounding areas who are in need of relief from a range of health issues, acute and chronic will want to check out Genesis Health and Acupuncture. Debi Sawchuk is a gifted acupuncturist, clinical instructor in the Acupuncture Program at Grant MacEwan University. She helps people of all ages and encourages people, both new to acupuncture and returning to it, to experience her healing therapy.
What is the advantage of your website over others?
The Genesis Health and Acupuncture website gives visitors a genuine opportunity to get to know Debi Sawchuk.
Tell us a story about this website.
The Sandvox website helped me realize that the photos I had been taking in and around the countryside were photos that people thought were amazing. I never thought of myself as a photographer (and still don't) but I wanted to use original images and the images I chose helped set the tone of the website and reflect the tone and energy of the client.
Why did you use this Sandvox design?
I chose the Blueball Minimal Colours design because I liked it's clean, strong look. When I originally looked at the client's business card it had a lot of white space on it. I redesigned her business card in the process of doing the site because she liked the look so much.
What techniques did you use to build this website?
I didn't use anything clever just the tools provide by Sandvox. As a first time builder learning the ropes, I stuck to the basics and relied on creative instincts and solid well-written content all directed toward a particular tone, in this case one of balance.
---
---
www.SandvoxSites.com/1630