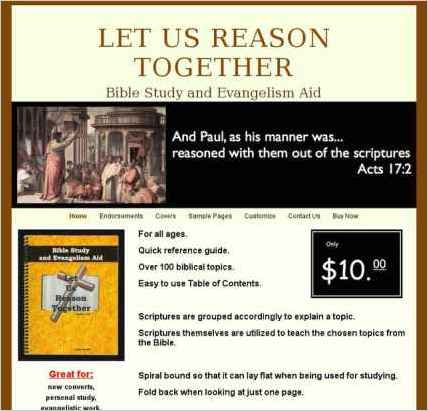 Sandvox was the choice for Joseph Stover to build his website. He chose the "Clockwork Brown" design for the site.
Sandvox features used for this site:External Page, Photo Grid, Contact Form
Visit Let Us Reason Together »
---
Describe your website.
This website is designed to show enough of my book to show the potential buyer and reader the usefulness of the book. One page shows the endorsements from credible names which also show good reasons for the purchase of the book and how this book will enhance anyone's study of the Bible. Another page allows people to view sample pages from the book so that the quality of material can be seen. A secured and trusted method of purchasing is provided.
Who is the target audience for your website?
The target audience are those of the Christian faith of all ages that want a book to help them enhance their study of the Bible.
Why did you use this Sandvox design?
I am currently using the design that I have because it allowed me to keep the sight simple while allowing it to still look professional and keep the emphasis on the book that I am trying to sell.
---
---
www.SandvoxSites.com/1756