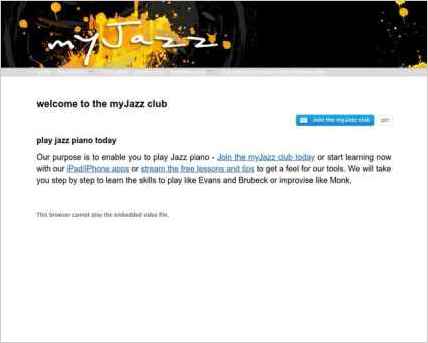 Sandvox was the choice for Phil Brace to build his website. He chose the "Carbone Right Sidebar" design for the site. People may want to visit the site if they are looking for play jazz piano today.
Sandvox features used for this site:Blog, External Page, Photo Grid, QuickTime Audio/Video, RSS Feed Object, Editing HTML of text, Raw HTML Object, Google Integration
--- Describe your website.
The myJazz club website is designed as a hub for members of the myJazz club, it features our blog, a user forum, and provides resources, and inspiration that supports the myJazz club iPad/iPhone apps.
Who is the target audience for your website?
Wanting to play jazz piano? You play some piano, but have never studied jazz? The myJazz club is the place to start.
What is the advantage of your website over others?
Tell us a story about this website.
It's early days, but Sandvox has delivered a fresh and exciting platform for the myJazz clubs website.
Why did you use this Sandvox design?
I chose to use the carbone template and modified it slightly in the html to suit my needs. I widened the page, customized the header and removed the footer, but other than that it's pretty standard.
What techniques did you use to build this website?
Nothing too clever yet, but I am poised to create up-loads for recordings from users of the site to create a community of jazz piano novices.
---
---
www.SandvoxSites.com/1753