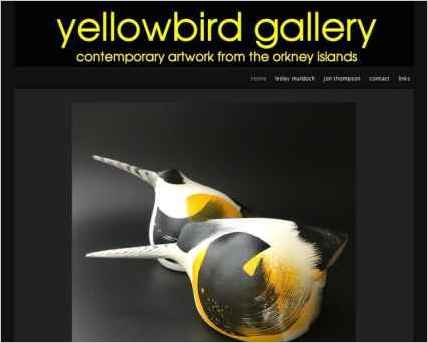 To build "yellowbird gallery," John Thompson chose Sandvox. He chose the "Grafite" design for the site. People may want to visit the site if they are looking for contemporary orkney landscapes...bird art..
Sandvox features used for this site:External Page, Photo Grid, Contact Form, YouTube, Code Injection
---
Describe your website.
The content of our website is all contemporary artwork produced by ourselves for our own gallery.
Who is the target audience for your website?
The audience we are aiming for with the website is contemporary art lovers.
What techniques did you use to build this website?
I needed a black screen to show off the paintings and as wide as possible..... for the font I chose avant garde and added a shadow...not that I wanted a shadow but with one it makes it an object.... and therefor should be picked up by everyone.
---
---
www.SandvoxSites.com/1662