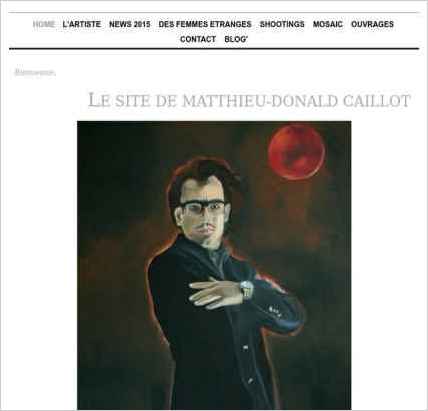 To build "MDC Master ArtStudio," Matthieu-Donald Caillot chose Sandvox. He chose the "Distinction Grey" design for the site.
MDC Master ArtStudio
(Website is no longer listed here.)
Sandvox features used for this site:Blog, Podcast, External Page, Photo Grid, Custom Collection Index, Site Map, Contact Form, YouTube, QuickTime Audio/Video, RSS Feed Object, Other Objects, Editing HTML of text, Raw HTML Object, Code Injection, Google Integration
---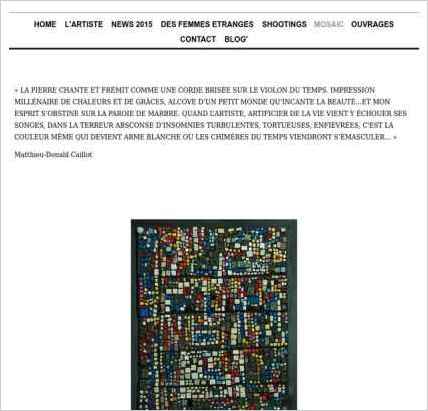 Describe your website.
My website contains lots of paintings, recent art-work by Matthieu-Donald CAILLOT, mosaic art, great mosaic fine art, projects, music and film all by MDC MASTER ArtStudio. Personalized fine art. Best artist in Paris, new wave, underground production, fashion inspiration.
You can by great art pieces now ! contact us.
Who is the target audience for your website?
New York art sellers, Paris art institutions, fashion models twenty years old, film directors from the entire world, Chinese businessman looking for quality art work, art lovers, art students twenty years old searching inspiration, golden boys looking for fine art, every greats art galleries around the world, fashion directory, every people looking for the best art job.
What is the advantage of your website over others?
Choosing MDC MASTER ArtStudio website is the guarantee of finding the best art job ever, real quality art by young Parisian artist, not so expensive for now.
Come and see the different way of creation by MDC MASTER. Working with MDC MASTER ArtStudio would give you the possibility to be a part of our contemporary art adventure. So go on and let MDC MASTER making you dreaming with open eyes!
Tell us a story about this website.
I was thinking about a website for my society since a long time, but working a lot on my art-work, i haven't the time to contact a webmaster for a net page elegant and ambitious. Someone recently told me about Sandvox. I find it so easy to build a website that i try to make it by myself with Sandvox. The success is here now.
Why did you use this Sandvox design?
The best design for the best society.
I found it with Sandvox.
---
---
www.SandvoxSites.com/1650