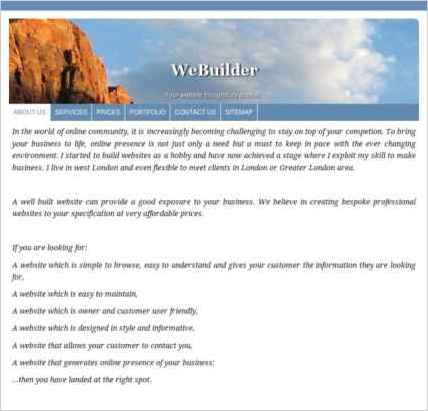 Varun Raikhy used Sandvox to build this website. He chose the "Earth & Sky Blue" design for the site.
WeBuilder
(Website is no longer listed here.)
Sandvox features used for this site:Site Map, Contact Form, Other Objects, Raw HTML Object, Code Injection, Google Integration
---
Describe your website.
I have designed this website to launch a small time business of creating, hosting and designing websites for people who do not have knowledge in this area however are desperate to get their business posted to the online world. I create bespoke website at very affordable prices for customers who do not have big budgets for marketing their business.
Who is the target audience for your website?
People with small businesses
All ages, demographics
What is the advantage of your website over others?
Webuilder.co.uk is simple, easy to comprehend and informative. I have little but adequate information on my site and the intention is not to confuse a customer with too many technical terms. Rather I am offering them a solution to give their order, sit back and relax....
---
---
www.SandvoxSites.com/1721