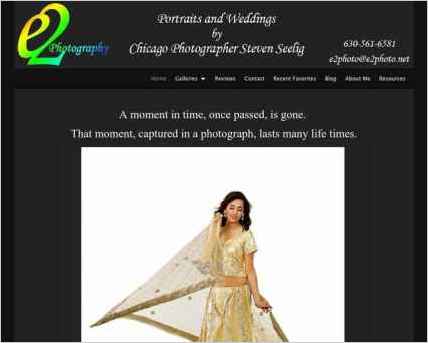 To build "e2Photography," Steven Seelig chose Sandvox. He chose the "Grafite" design for the site. People may want to visit the site if they are looking for chicago wedding photographer, chicago photographer, wedding phot.
Sandvox features used for this site:Blog, External Page, Contact Form, Raw HTML Object, Code Injection, Google Integration
---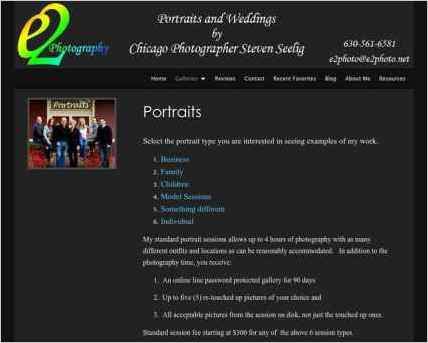 Describe your website.
Examples of Chicago wedding photographer Steven Seelig's work. I believe the best way to present and promote myself is to actually show high quality images that I have taken.
I have video slide shows, regular slideshows, and a couple of different blogs talking about photography.
Who is the target audience for your website?
I am interested in people interested in hiring a photographer for either a portrait or a wedding. I primarily work in and around Chicago, Illinois. In terms of portrait photography, I do business, family, children and boudoir photography.
What is the advantage of your website over others?
I have designed my website to provide a very rich set of high quality pictures I have taken in either a regular slide show or a video slideshow to add some extra energy to the site.
Tell us a story about this website.
Using a combination of Sandvox and JAlbums allowed me to embed video slideshows hosted on vimeo.com easily and generate simple slideshows with music reflective of the various aspects of my business.
Why did you use this Sandvox design?
I like the very quiet 'sleek' design of my website. The very dark background visually allows the potential client to focus on the pictures and not on the other aspects of the website. All of my site testers love the design and like the ease of getting around.
What techniques did you use to build this website?
I think the most significant additional technique was the use of JAlbums which really allowed me to create the look and feel of presenting my pictures in the most favorable way. I was able to integrate this into my Sandvox website in less than a couple of hours and was a huge solution for me.
---
---
www.SandvoxSites.com/1689