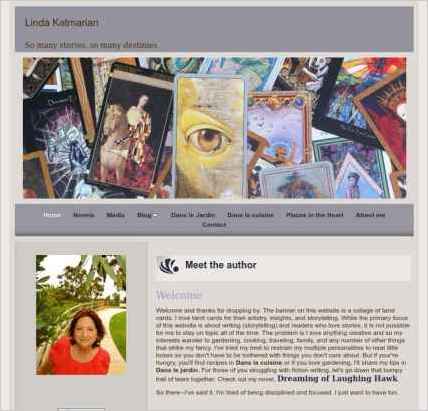 Sandvox was the choice for Linda Katmarian to build her website. She chose the "Cathedral" design for the site.
Linda Katmarian, Author
(Website is no longer listed here.)
Sandvox features used for this site:External Page, Site Map, Contact Form
Visit Linda Katmarian, Author »
---
Describe your website.
My website reflects my principal interest in fiction writing, but I also accommodate other interests such as gardening, cooking, and blogging.
Who is the target audience for your website?
My target audience is readers as well as other writers, but primarily readers. Fiction is my main focus, but I also leave the door open for cuisine, travel, gardening, politics, etc.
Why did you use this Sandvox design?
It is artistic and uncluttered. It is like having a broad canvas.
What techniques did you use to build this website?
I'm a novice, but I created my own collage for my banner. For main tabs, I use pages with a side panel. For topics, I use a plain page with no side panel. I used some of the content from my blog to help build content.
---
---
www.SandvoxSites.com/1669