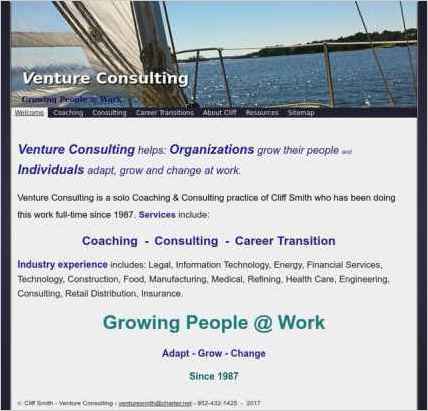 Sandvox was the choice for Clifford Smith to build his website. He chose the "Imagine" design for the site. People may want to visit the site if they are looking for coaching, outplacement, career development.
Sandvox features used for this site:Site Map, Amazon.com, Google Integration
Visit Venture Consulting - Growing People @ Work »
---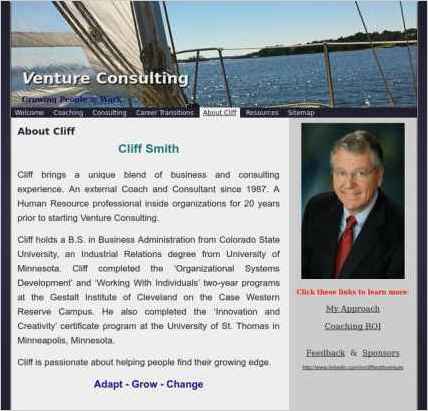 Describe your website.
My website is designed to attract my organizational sponsors (or help them understand what I do) who are buying: Development Coaching, Transitional Coaching (or Outplacement), and Practice Building (for Lawyers).
Who is the target audience for your website?
My target audience is: human resource leaders or business owners who need coaching, outplacement, or training services.
What is the advantage of your website over others?
My Approach to working with individuals is unique. I go to them. I treat all information as confidential. I have been doing this since 1987. My fees are affordable and fit to the situation.
Tell us a story about this website.
I was excited to use the Google tools that are integrated with Sandvox. I am not an IT guy... it is so easy with Sandvox!!!
Way cool!
Why did you use this Sandvox design?
I wanted a photo I owned to headline the site.
What techniques did you use to build this website?
I just downloaded the Sandvox software and PLAYED. It all came together!! Just works...
---
---
www.SandvoxSites.com/1570