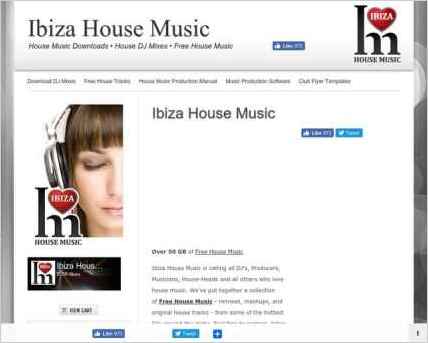 Steve Heap used Sandvox to build this website. He chose the "VueThemes - Ibiza House Music" design for the site. People may want to visit the site if they are looking for free house music downloads, house dj mixes.
Sandvox features used for this site:Blog, External Page, Photo Grid, Custom Collection Index, Site Map, Contact Form, Amazon.com, YouTube, RSS Feed Object, Other Objects, Editing HTML of text, Raw HTML Object, Code Injection, Google Integration
---
Describe your website.
We offer DJs, music producers and house-heads a large collection of free house music downloads, DJ mixes, music loops and production tools.
Who is the target audience for your website?
House music DJs, music producers and remix artists.
What is the advantage of your website over others?
My site is getting better ranking in Google than my competitors and it has a much more streamlined interface and navigability is a snap.
Tell us a story about this website.
Migrating my 500+ page websitesite from Joomla to Sandvox was a bit of a task. However, building in Sandvox was a breeze. I'm now able to update and add content relatively quickly and with ease. Running a builder locally is a snap since I don't have to wait for page load times. Plus, the integration with SEO and Google analytics and webmaster tools makes this a must have tool for anyone wanting to build a great site... large or small.
Why did you use this Sandvox design?
I modified a template to meet my needs. The template had a good start but I wanted to incorporate a bit more pop to the site so I edited the CSS to my liking and added the background and header. I feel it has a much more modern and customized web 2.0 feel to it now.
What techniques did you use to build this website?
I found that I was able to manipulate some of the pagelets in the sidebar that were carrying over to child pages by setting the parent pagelets to "prefer bottom" so they didn't conflict with the order of pagelets that were only displayed on child pages... which I wanted at the top of the list. It took some troubleshooting but I got it to function the way I wanted. I used this particularly in the Free House DJ Mixes section of the site... and to all sub pages http://www.ibizahousemusic.com/free-house-dj-mixes/
---
---
www.SandvoxSites.com/737