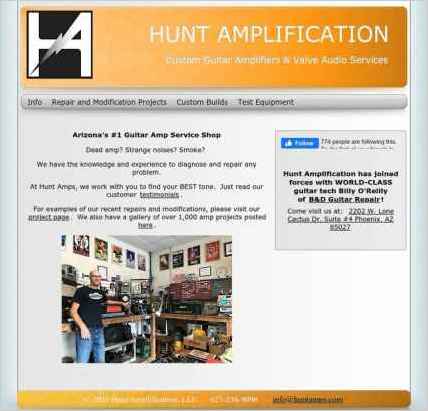 To build "Hunt Amplification" for Hunt Amplification, LLC, Lowell Hunt chose Sandvox. He chose the "This Modern Life" design for the site. People may want to visit the site if they are looking for Guitar Tube Amplifier Repair in Arizona.
Sandvox features used for this site:Photo Grid, Custom Collection Index, Site Map, Contact Form, YouTube, QuickTime Audio/Video, Other Objects, Google Integration
---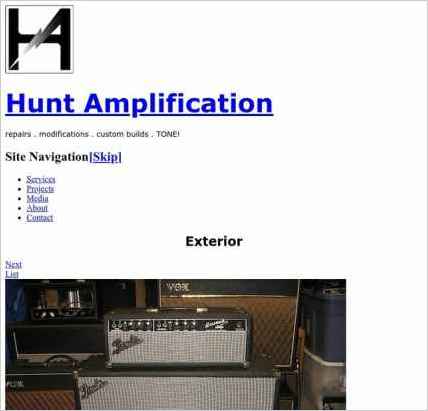 Describe your website.
My website is is designed to provide information about my tube amplifier service company.
Visitors can look at the services and products I offer, browse through photo collections and media clips of some of my past projects, and learn about me and my philosophy when it comes to tube amps and TONE!
Who is the target audience for your website?
The target audience for my website is electric guitarists, bassists, and organists who require tube amplifier service and have an ear for TONE! I'm located in Arizona, but I service amps from all over the country.
What is the advantage of your website over others?
Visitors to my website can learn about me and every aspect of my business, helping them to feel confident that I will meet their tube amp service needs.
Visitors can look at photos of my work, listen to clips of amplifiers I've built and/or serviced, and see my service rates up-front.
Tell us a story about this website.
My hard drive crashed and I lost all everything, including my website files! Sandvox is so easy to use that I was able to re-create the entire site in less than an hour just by referencing my published website through a browser.
Why did you use this Sandvox design?
I chose the "Smooth Dark" design for my Sandvox website because it's simple and professional looking. To my eyes, it was simply the best complement for my site.
---
---
www.SandvoxSites.com/588