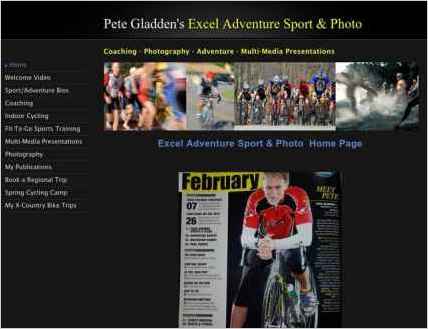 Pete Gladden used Sandvox to build this website. He chose the "Blueball Shadow Orchid" design for the site. People may want to visit the site if they are looking for Coaching, presentations, photography, adventure travel.
Sandvox features used for this site:Blog, Site Map, Contact Form, QuickTime Audio/Video, RSS Feed Object, Other Objects
---
Describe your website.
We are an organization devoted to the promotion of health, fitness and the spirit of adventure. We offer coaching/personal training services; audio-visual presentations, photography services, and adventure travel services. We also do expeditions and adventures to promote our organization.
Who is the target audience for your website?
We hope to inspire people to get involved in health and fitness. People who would be interested in our site are competitive athletes, cyclists, triathletes, runners, and anyone who loves the great outdoors.
What is the advantage of your website over others?
We have a reputation in the health, fitness, and competitive endurance athletics field that spans some 30+ years. We walk the talk!
Tell us a story about this website.
Our site just went up yesterday. Thus far I've had several people email us to say that they really like the site.
Why did you use this Sandvox design?
I just tried out numerous styles once I purchased Sandvox, until I found a format that I thought matched our organization and our header.
What techniques did you use to build this website?
I probably haven't even touched all the capabilities that are possible with my Sandvox version. I really just used photos, text, Quicktime, contact and list pages and pagelets. As I become more familiar with all my options I'll continue to upgrade our website.
---
---
www.SandvoxSites.com/626