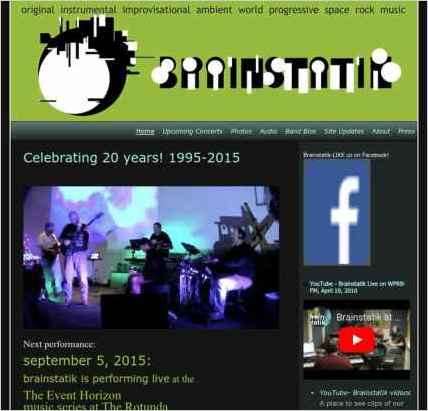 Sandvox was the choice for Ken Palmer to build his website for Brainstatik. He chose the "Night Breeze" design for the site. People may want to visit the site if they are looking for original progressive rock music.
Sandvox features used for this site:External Page, Photo Grid, Custom Collection Index, YouTube, QuickTime Audio/Video, Other Objects
---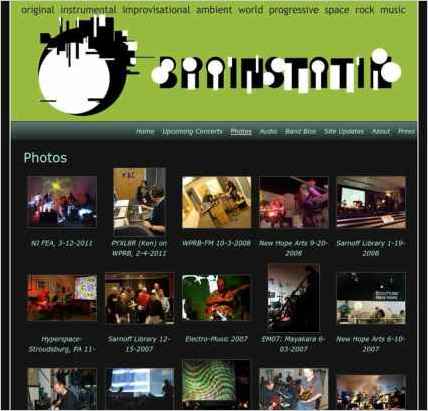 Describe your website.
Who is the target audience for your website?
Fans of Brainstatik are interested in hearing and learning about progressive instrumental rock music. We mostly appeal to men from 18-60 who like 1970's classic rock, and who like to come see live music in the New Jersey and Pennsylvania area. Most of our fans are fellow musicians who are interested in the latest music technology and instruments. We are a very gear-heavy band, and usually we spend a lot of our time after a show discussing our musical toys with the fans.
What is the advantage of your website over others?
Our website is easy to navigate, and information is quickly found. We try to keep it simple and straightforward. A lot of bands in our genre tend to over-design their sites, so while they may look very slick and modern, they are often a puzzle when trying navigating through the site's content.
Tell us a story about this website.
Our fan base has increased a lot since the site was redesigned using Sandvox. While I can't confirm that this is the sole reason for an increase in the band's exposure, I believe we now come across as a more professional and serious band because of the look and feel of the pages.
Why did you use this Sandvox design?
I used the "Nightbreeze" template as the basis for our website's design, because its clean uncluttered layout seemed to lend itself best to how I felt our site's content should be organized. I replaced all the stock art with our own images, and nobody as ever told us that our site looks generic or bland.
---
---
www.SandvoxSites.com/718