To build "sienestä" for Kainuun sienijaloste sienestä oy, Esa Holopainen chose Sandvox. He chose the "Blueball Cubicle" design for the site. People may want to visit the site if they are looking for forest mushrooms.
Sandvox features used for this site:Contact Form
---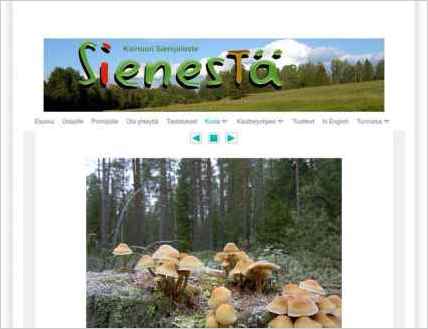 Describe your website.
"Sienestä" is the website of a company with same name. We are buying forest mushrooms in Northern finland and selling them as processed product all over Finland.
Who is the target audience for your website?
Our most important audience are people who sell us mushrooms and customers who buy processed product (restaurangs). And of course all who are interested of forest mushrooms.
What is the advantage of your website over others?
We try to keep the site clear, friendly and intelligible.
Why did you use this Sandvox design?
Suitable colors for a site presenting forest mushrooms.
What techniques did you use to build this website?
Photo page, photo collection,contact form, rich text page,list of links
---
---
www.SandvoxSites.com/711