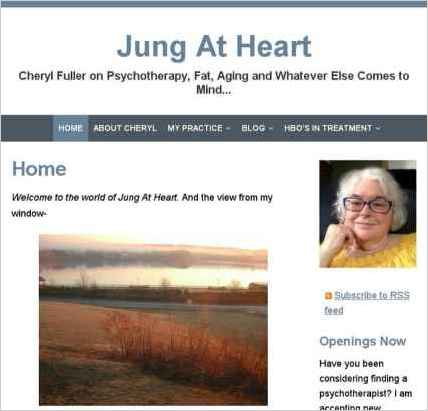 Cheryl Fuller used Sandvox to build this website. She chose the "Blueball Simplex Gray" design for the site.
Jung At Heart
(Website is no longer listed here.)
Sandvox features used for this site:Blog, Contact Form, RSS Feed Object, Raw HTML Object, Google Integration
---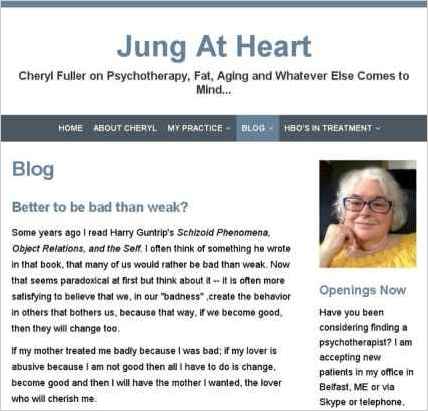 Describe your website.
My website is designed as three blogs to tell people about my practice, let me muse about the field of psychotherapy and mental health, and to discuss knitting and other aspects of everyday life. My goal is to promote and attract people to my practice by allowing them to learn about me and what I think.
Who is the target audience for your website?
The people who visit my site come from all over the world. They come to read my long series of posts on the HBO series, In Treatment, or because they are interested in Jungian psychology and psychotherapy. Some come because they share my interest in knitting or cooking or Maine and stay to read about my other interests and my practice.
What is the advantage of your website over others?
Sandvox allows me to have three blogs under a single umbrella and thus be able to keep the site well organized and to attract a wider variety of readers.
Why did you use this Sandvox design?
I chose the Sunburst design because I am attracted to the art deco look of it. It looks feminine without being frilly. The design is clean and attractive with soft colors that enhance the look of the whole site.
What techniques did you use to build this website?
I have used weblog collections to allow me to organize my site as a collection of blogs but to do so seamlessly without requiring that readers leave my site.
---
---
www.SandvoxSites.com/41