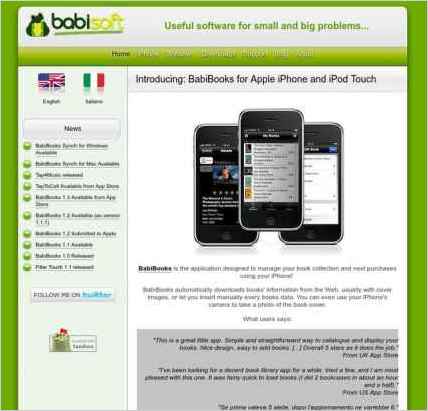 Sandvox was the choice for Stefano Falda to build his website. He chose the "Babisoft's Aqua" design for the site. People may want to visit the site if they are looking for Useful iPhone, Win, Mac software to solve small and big problems.
Sandvox features used for this site:Blog, External Page, Custom Collection Index, Site Map, Contact Form, YouTube, RSS Feed Object, Other Objects, Editing HTML of text, Raw HTML Object, Code Injection, Google Integration
Visit Babisoft - Software developed by Stefano Falda »
---
Describe your website.
My website presents the software applications I've developed in the last 10 years and offers some hints about my programming practice, and the general problems most developers have to face in their everyday activity.
Who is the target audience for your website?
My website is targeted to all the people that are looking for effective solutions to their practical problems, like cataloguing their books on their iPhone, or printing CD and Tape Covers, or following their favorite RSS feeds, or just take a break playing some fun game on their portable device.
What is the advantage of your website over others?
I believe that the products I present in my site are superior to others, because I tend to be the first - and most critic - user of my applications, and generally I tend to adopt the more simple and pragmatic software solution to the problem I'm solving.
Tell us a story about this website.
When I decided to adopt Sandvox to develop my site I was fighting with Google, since it was reporting my website as source of Malware. I decided to remove all the dynamic code that was on the site and to replace it with a more secure static solution. And it worked! In two days my site was up and running and, best of all, whitelisted.
Why did you use this Sandvox design?
I started with the default Aqua design because I liked its elegance and simplicity, then I customized it to match my logo colors, so I changed all the colors from cyan to green.
What techniques did you use to build this website?
I've taken a standard template and modified the hue of the colors of the pictures to make them fit my company logo
---
---
www.SandvoxSites.com/667