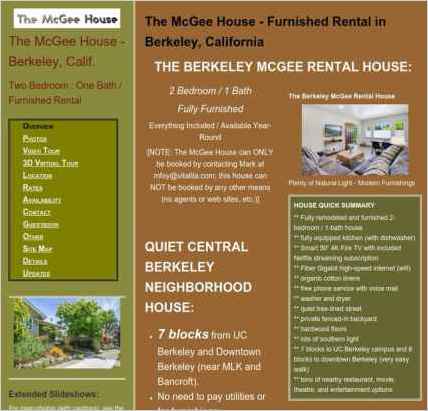 Mark Foy used Sandvox to build this website. He chose the "Two Lines4" design for the site.
Berkeley Vacation Rental - The McGee House
(Website is no longer listed here.)
Sandvox features used for this site:Blog, External Page, Photo Grid, Custom Collection Index, Site Map, Contact Form, RSS Feed Object, Other Objects, Editing HTML of text, Raw HTML Object, Code Injection, Google Integration
Visit Berkeley Vacation Rental - The McGee House »
---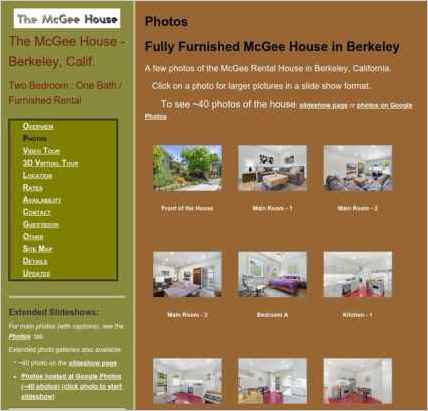 Describe your website.
The website contains all the details about the McGee House - a furnished rental house available in Berkeley for short-term stays. Information includes Rates, Availability, Photos, as well as all the details about the amenities.
Who is the target audience for your website?
This web site has many different targets:
- Professors and researchers visiting UC Berkeley who are looking for temporary furnished housing.
- People moving to Berkeley (and the San Francisco Bay area), and need temporary furnished housing.
- Vacationers to the Berkeley area who would like to have a house with a kitchen instead of a hotel room.
What is the advantage of your website over others?
The website provides us as owners to detail all the information about the furnished house available for rent so that people can make have as much information as possible when comparing this McGee House to other furnished housing in the Berkeley area. This website contains much more information than is normally provided on a housing page: including pictures, floor plans, maps of the area, and well as details about all amenities.
Tell us a story about this website.
Recently, some people had to find a furnished place for their parents who had had some minor medical issues come up while visiting the bay area. They needed a place with at most 5 stairs, a separate sleeping area from the main room, and that would be comfortable for spending many hours indoors. They said they could easy sum up the features and amenities of the McGee House by looking at my website, and were comfortable booking the house for 10 days without ever having seen the house in person.
Why did you use this Sandvox design?
I selected the Two Lines design for this rental website because it has unlimited width possibilities. No matter what browser is used by a visitor, or how big their screen is, the pages on this web site will resize to fit the visitors specific situation, so if they have a small browser window, it will just wrap more, and if they have a larger browser window it will use the extra space rather than just leaving it blank.
What techniques did you use to build this website?
Made small modifications to the CSS page - this allowed me to customize the background colors of the site to better suit the web site content AND different font priorities.
---
---
www.SandvoxSites.com/653