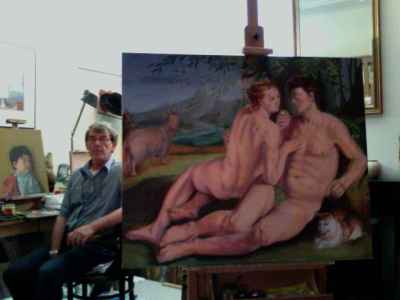 Location: Ruurlo, the Netherlands
Language: Dutch.
What kind of websites were you planning to build?
I wanted to show my paintings to the rest of the world in an easy way and to have some feedback on them.
How did you hear about Sandvox?
I first tried IWeb from Apple, but it was too simple. I wanted a more professional look. Then I tried Dreamweaver, but it was not very handy for an amateur. Then I found Sandvox via the Dutch magazine MacFan. It came out very favourable in a comparison of applications.
What made you decide to get Sandvox?
Sandvox is by far the simplest application with a very professional look for a reasonable price. For an amateur like me, these are the most important criteria.
Now that you have Sandvox, what do you like about it?
The ease of use everyday is again a blessing. It is very easy to find your way through the application and to experiment a little without getting lost. And I appreciate Karelia's warm and enthusiastic support with an eye for details.
What would be a good way to search for a program like Sandvox?
---