 Location: South Western Ontario Canada
What kind of websites were you planning to build?
I built this site to promote the band and serve a communication tool for the band members.
How did you hear about Sandvox?
Sandvox was recommended to me by a friend who is also a committed Mac user.
What made you decide to get Sandvox?
Sandvox is easy to use even for web page neophytes like me.
Now that you have Sandvox, what do you like about it?
Sandvox is easy to edit, update and publish to my web host.
---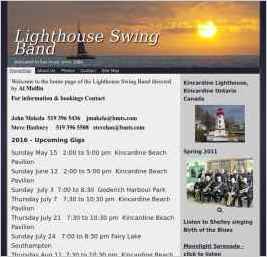 "The goal of this site is to promote live music in the South Western Ontario Canada and the Lighthouse Swing Big Band. It will also serve a communication tool for the band members and forum for listeners and promoters."