Location: Ohio, USA
What kind of websites were you planning to build?
I needed to build websites with integrated blogs to display paintings and provide a place for artistic discussion among clients. I needed a choice of designs for each website for each of the 4 artists in our family.
How did you hear about Sandvox?
I discovered Sandvox via the Apple site. I had tried & not liked iWeb.
What made you decide to get Sandvox?
I chose Sandvox because it provided a nice choice of templates, the ability to easily build a blog into our sites, & the ease of creating a multipage site & make cross-page changes easily. The favicon was a lovable luxury & I adore the pagelets and ability to group pages into collections with an instant index. The ability to use some html and the reasonable price were the final deciding factors.
Now that you have Sandvox, what do you like about it?
Website building can be frazzling work. I need a calm organized interface to work off of. Sandvox keeps things in order for me. Before I got my new iMAC I had been using Dreamweaver for Windows. I didn't want to have to spend that money money again for the Mac. I have to say there is nothing I miss about Dreamweaver.
What would be a good way to search for a program like Sandvox?
---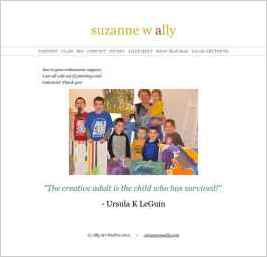 "My husband and I live in different cities. He is my best critic of both my paintings and my writing. Every morning he checks to see if I have written anything in my blog or posted a new painting. During this time we are living apart we have my website as our secret meeting place, in plain view of..."