 Location: North America
What kind of websites were you planning to build?
I wanted to make a website that would expand and promote my business as a session drummer and drum instructor.
How did you hear about Sandvox?
I heard about Sandvox through a Google search for a Mac website design software.
What made you decide to get Sandvox?
I chose Sandvox becuase it fit my budget, and it worked with OS X 10.4.11 Tiger.
Now that you have Sandvox, what do you like about it?
I like how quick and simple it is to publish my website.
What would be a good way to search for a program like Sandvox?
Website Design Software OS X Tiger
---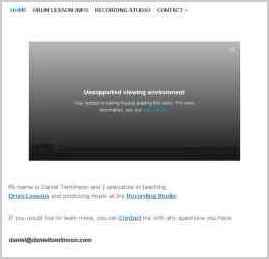 "My website includes details about me as a session drummer and drum instructor. I use this site to promote my business."