 Location: Glendale, MA, USA
What kind of websites were you planning to build?
I am a decorative painter and wanted existing or potential clients to be able to view my portfolio of projects. More and more I've found that potential customers want to "prequalify" me by looking at my work on line before they call for a consultation at their home.
How did you hear about Sandvox?
My Mac repairman suggested I check out Sandvox.
What made you decide to get Sandvox?
I chose Sandvox after exploring half a dozen other web building sites. I found it to be affordable and helpful. I love the fact that it is geared toward Mac users. A big plus for me was that Sandvox never rushed me. The other sites offer only a few days to work on a site and then you must buy or they expire. I'm a newbie at this...Thank You Sandvox!
Now that you have Sandvox, what do you like about it?
I wanted to publish a simple but good looking site that would show my photos to the fullest. I couldn't be more thrilled with the final result. They enlarge and magnify beautifully!
I love the helpful tips and literature on getting my web site picked up by Google and noticed. It really works!
I'm still fussing with my site and learning a lot. I'm actually having fun!
What would be a good way to search for a program like Sandvox?
---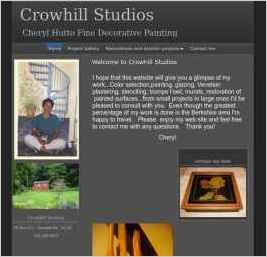 "I received a request from "the Old Fahioned Milk Paint Company" asking if they could post photos of my work on their site. They had discovered the photos on my Sandvox site of my completed projects which featured their milk paint. They must have Googled "milk paint"!"