 Location: Woburn, MA, USA
What kind of websites were you planning to build?
An easily updated web site for my company.
How did you hear about Sandvox?
I did a Google search and then checked out Sandvox.
What made you decide to get Sandvox?
I tried other web site creation software and Sandvox was by far the easiest to use.
Now that you have Sandvox, what do you like about it?
I like the instant ability to publish changes to my website.
What would be a good way to search for a program like Sandvox?
Web site creation software for Mac
---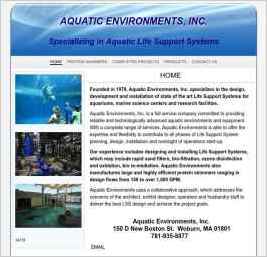 "Our website includes project photos that display the expertise that Aquatic Environments has in designing, fabricating and installing aquatic life support equipment. We specialize in custom fabricated protein skimmers and our proprietary design ensures the best water quality for your exhibits!"