 Location: Phoenix, Arizona, USA
What kind of websites were you planning to build?
I wanted to build a site for my ministry and also for the church.
How did you hear about Sandvox?
After checking out numerous programs available, reading the reviews, checking what each offered and price comparison I chose Sandvox.
What made you decide to get Sandvox?
After watching the demo I found that it was very user friendly with a fast learning curve. That was important to me as my time is valuable. Plus I liked the features and templates offered.
Now that you have Sandvox, what do you like about it?
It's easy to use and when I have an idea on what I would like to do it is not hard to figure out how to do it. The upgrades over the time I have had it are great. It was very easy to create both the websites I deal with and to add the content I wanted. Besides, support is absolutely great. I have ideas for more websites and look forward to more templates. I will continue to use Sandvox for any sites I plan and will recommend it highly to others.
What would be a good way to search for a program like Sandvox?
web design app for mac, mac web software, web design software for mac
---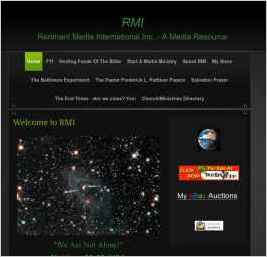 "I chose a space theme because I believe that God created all things and I am fascinated with space. The phrase "we are not alone" can be taken two ways, but the scripture I reference nails it down that Jesus is with us till the end of the age so "we are not alone". :-)"