 Location: New Canaan, Connecticut, USA
What kind of websites were you planning to build?
I built a website for a marketing client that does global importing and exporting.
How did you hear about Sandvox?
I did a Google search of reviews of website building software. I was looking for an open-source software program to enable me to build an attractive, user-friendly website without a creative/technology team behind me. (I am a former marketing director that used to work with a talented team to execute ideas.)
What made you decide to get Sandvox?
The price for quality results made Sandvox attractive. But I was sold when I read user comments.
Now that you have Sandvox, what do you like about it?
I like that Sandvox is constantly innovating. What you see is what you get right now, but you can count on more functionality and more designs coming down the pipe.
What would be a good way to search for a program like Sandvox?
website building software review, Macworld reviews
---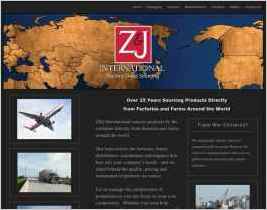 "We thought that the size of this particular site and the black background made it appealing to showcase the kind of products we source."