Location: Nepal
What kind of websites were you planning to build?
The website is my business card. Its creation is to give information about my music program to four audiences: the kids that create the songs, possible donors, schools and NGO's that would like to host the program and of course the general public. Oh yes and my Mom.
What made you decide to get Sandvox?
The reviews for Sandvox were very good and I liked your own design.
Now that you have Sandvox, what do you like about it?
Your customer service response has been quite good on the forums. The problems I had were solved and it has been a pleasure to use the product.
What would be a good way to search for a program like Sandvox?
---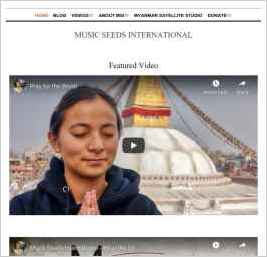 "This site was created in Nepal where there are power outages of 16 to 18 hours a day. This site was made by candle light and laptop battery power on nights when there was no power available. In the villages and refugee camps I have been, the children can now go online and see their songs and show..."