 Location: St. Paul, Minnesota, USA
What kind of websites were you planning to build?
I've built my web site to call attention to interesting and unique work by a wide range of artisans and craftspeople (including me) that I've found on the internet. I've included Google and Amazon advertising, and hope that the site will eventually provide some supplemental income.
What made you decide to get Sandvox?
After looking through the Sandvox web site and reading reviews of the program, I decided that it looked the most user-friendly for the price and the available features. I had originally thought I needed to hire someone to build my web site, but when I saw what I could do with Sandvox without knowledge of HTML, I decided to try it.
Now that you have Sandvox, what do you like about it?
I've been able to build the web site I wanted with it, even though I don't know HTML.
What would be a good way to search for a program like Sandvox?
---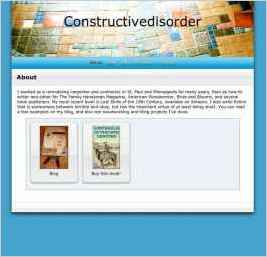 "I tried quite a few of the templates, and ended up with the one I'm using because it was simple, clean and let me do almost everything I wanted to do, although it sometimes took some head-scratching."