 Location: Huddersfield, West Yorkshire, UK
What kind of websites were you planning to build?
To advertise the services I offer as a self employed lighting designer, show operator and technician, along with the additional event and installation services I offer.
How did you hear about Sandvox?
What made you decide to get Sandvox?
It looked like the right package.
What would be a good way to search for a program like Sandvox?
---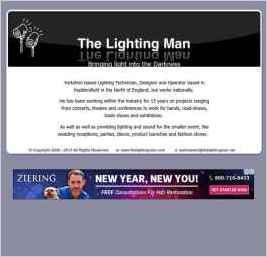 "It's just a forwarding device to my pro website. The rest of the family cannot be bothered to provide content for it."
family forwarding