 Location: Uetersen, Schleswig-Holstein, Germany
Language: German.
What kind of websites were you planning to build?
Die WebSeite ist die Firmenseite einer Tierklinik für Kleintiere. Die Seite soll über diese Klinik informieren und auch über die dort beschäftigten Mitarbeiter und die angebotenen Leistungen.
How did you hear about Sandvox?
Ich habe über Sandvox im Internet gelesen. Ausserdem eine Besprechung in einer deutschen Computerzeitung vor vielen Jahren. So lange beschäftige ich mich schon mit Sandvox
What made you decide to get Sandvox?
Wichtig war die einfache Bedienung.
Now that you have Sandvox, what do you like about it?
Mit Sandvox lassen sich innerhalb kürzester Zeit beeindruckende und gut Webseiten erstellen. Sandvox hat ein gutes Bedienkonzept.
What would be a good way to search for a program like Sandvox?
Webseiten Erstellung mit MacOSX
---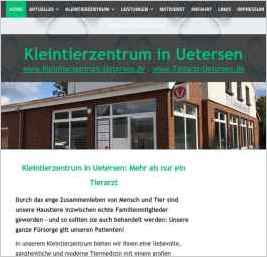 "Die WebSeite beschreibt die Tierärztliche Klinik für Kleintiere in Uetersen, kurz "Tierklinik Uetersen". Sie nennt die Leistungen und Möglichkeiten und auch die dort beschäftigten Mitarbeiter."
operation pinneberg kastration notfall tierarzt kleintier