Location: Portugalete, Bizkaia, Basque Country, Spain
Language: Spanish.
What kind of websites were you planning to build?
Art, public art, and general web pages about my career as an artist
How did you hear about Sandvox?
Surfing, looking for an easy web editor like IWEB. I saw some entries about Sandvox.
What made you decide to get Sandvox?
EASY way to built my webpage, to do maintenance, and to update it.
Now that you have Sandvox, what do you like about it?
It is what I expected; easy and looks good.
---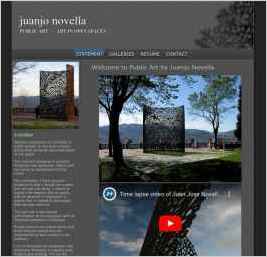 "The grey is a neutral color to enhance the pics, and also is adaptable to a modern style. It is relaxing to see."