 Location: Calgary, Alberta, Canada
What kind of websites were you planning to build?
Vacation apartment rental
What made you decide to get Sandvox?
Sandvox is software for a Mac and it looked user friendly.
Now that you have Sandvox, what do you like about it?
The program is pretty straightforward and not too complicated to learn.
---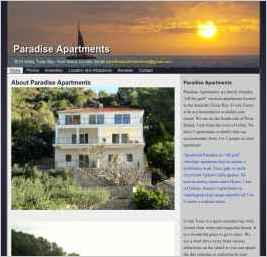 "My website is for Paradise Apartments - family friendly vacation apartments located on the South side of Hvar Island near the town of Gdinj. We cater to tourists who want a relaxing getaway enjoying nature, crystal clear water, beautiful sea views, and serene environments any time of the year. Our..."