 Location: Birmingham, Alabama, USA
What kind of websites were you planning to build?
I wanted to build a website composed of some of the excerpts from my Bible studies that might be of use to others. Not being a web developer, I had only used FrontPage web development software in the past, but had since moved on to an Apple computer and wanted an easy, but robust web development tool where I didn't have to use web development languages.
How did you hear about Sandvox?
Sandvox got excellent reviews and the price was reasonable, so I purchased it.
What made you decide to get Sandvox?
Sandvox was a tool that appeared very easy to use and I didn't have to know web development languages. The templates were also good, which helped provide many web page design options. The beauty is also that if you tire of one design, you can fairly quickly change the overall site design without having to redevelop your website.
Now that you have Sandvox, what do you like about it?
Sandvox's intuitive templates and tools allow one to focus on site content and not as much on design and the technical nature of coding.
What would be a good way to search for a program like Sandvox?
---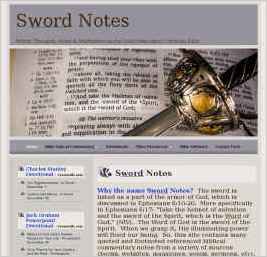 "To mature within my Christian faith, and maintain a close relationship with Jesus, I have made a habit of reading the Bible and many other sources related to the Bible such as Bible commentaries, outlines, and devotionals. At first I was underlining in my books. Over time I realized that I would..."