 Location: Le Pin, Seine et Marne, France
Language: French.
What kind of websites were you planning to build?
Mon site est à classer dans le domaine de la photographie haute vitesse mettant en scène des percussions de gouttes d'eau.
How did you hear about Sandvox?
J'ai découvert Sandvox au fil de mes recherches sur internet.
What made you decide to get Sandvox?
Je cherchais tout d'abord une application pour Mac OSX.
Il fallait qu'elle soit simple à mettre en oeuvre, c'est à dire sans connaissance de code, avec un tableau de bord clair et convivial, une édition des pages en temps réel et pour un coût abordable.
Sandvox a parfaitement répondu à mes attentes.
Now that you have Sandvox, what do you like about it?
J'aime ce concept qui consiste à construire un site et à ne le publier que lorsqu'il est complètement terminé.
---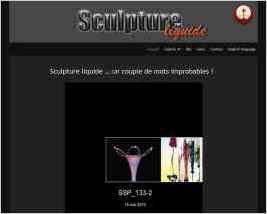 "J'ai choisi le design "grafite" car le noir met bien en valeur mes photographies et en renforce le côté mystérieux."
sculpture photographie goutte liquide haute vitesse