 Location: San Francisco, California, USA
What kind of websites were you planning to build?
I was planning to build a website for my solo attorney law office and, possibly, a law blog. The website needed to be built by me so that it would have my unique stamp and style. I am not like most other lawyers, and I wanted a website that was personal and individual--like no other.
How did you hear about Sandvox?
I heard about Sandvox by searching web builders, and reading all the articles the searches revealed. It was not easy; most reviews focused on monthly payment web builders and did not even mention software licensing options.
What made you decide to get Sandvox?
I chose Sandvox because I had the pleasure of using iWeb. I wanted iWeb simplicity and cost-effectiveness. I wanted software (not monthly bills), easy to use "drop" and "click" building, and the freedom to build as many sites with as many templates as I needed without having to pay extra for each site or each template.
Now that you have Sandvox, what do you like about it?
I doubt there is a person in the entire universe that loves Sandvox as much as I do. I very nearly gave up on trying to find another iWeb, and nearly signed up for a monthly-billed service. I am so happy I did not give up and kept looking until I found Sandvox.
What would be a good way to search for a program like Sandvox?
iWeb replacement, no monthly fee, web builder
---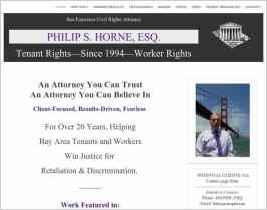 "Building my webpage "Over 20 yrs of Top Quality Work" required me to: 1) Review all of my cases over my entire career, 2) Create a case/results spreadsheet, 3) Create a case/results binder, and 4) Relive every success and every less-than-success. It allowed me to understand who I am, what I offer,..."