 Location: Purdys, New York, USA
What kind of websites were you planning to build?
Basically, I wanted to build a website that would tie all the various threads of my musical talent. I perform on the bass, I teach privately the bass, I compose both electronically and for band, and I can put together musical ensembles for functions, parties, etc. Also, I wanted to show, by videos on You Tube and recordings, examples of my work.
How did you hear about Sandvox?
I asked a friend about web design software for Mac and she suggested "Dream Weaver" but she admitted that it was difficult and that is her line of work. I found Sandvox by Googling for website design software.
What made you decide to get Sandvox?
It is very very easy to use, and the result is amazingly good. And I see that it is easy to modify and tweak, so that it looks personal. It is so easy that my wife, who is not at all computer savvy, is working on her own website, and is enjoying herself! It actually is fun to use!
Now that you have Sandvox, what do you like about it?
Easy and fun to use. Easy to modify and tweak. Very powerful in a subtle way and very intuitive. Also, I love the support from everyone - I never realized how important support can be, but you all are amazing, but never intrusive. Great knowledge of the net and great information.
What would be a good way to search for a program like Sandvox?
web design software for Mac computers
---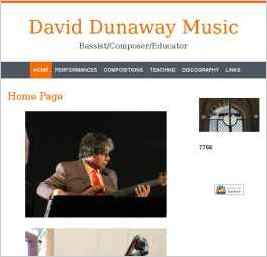 "It's still early, but I did tell one contact. She works at the Metropolitan Museum of Art in NYC. [She thought] my new site was "terrific" and that she loved hearing examples of my originals and reading about my upcoming tour of Africa."