 Location: Pittsburg, Kansas, USA
What kind of websites were you planning to build?
I set out to make a site that would use brief essays, historical photographs, and maps to tell the story of a family that fanned out from New England to settle the American West in the 1850's.
How did you hear about Sandvox?
Needing software to update and extend a site originally created with iWeb, I checked the App Store for likely candidates. This was the one that came most highly recommended.
What made you decide to get Sandvox?
Reviews from Sandvox users stressed the gentle learning curve of this software and its ease of use. As the documentation warned, transferring the iWeb site was not without hiccups, but it was a generally painless experience.
Now that you have Sandvox, what do you like about it?
With Sandvox I get to spend most of my time blogging and creating other content, letting the software do the heavy lifting.
What would be a good way to search for a program like Sandvox?
---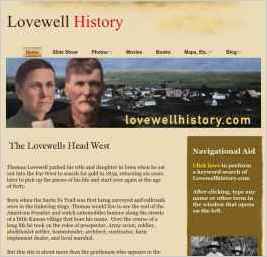 "I like to reserve the scrapbook-like photo pages of the Telegraph Office theme for showcasing historical photographs, which invite closer inspection, and generally use the slideshow page for eye-pleasing contemporary photographs of historical sites. I'm always interested in knowing what kind of..."