 Location: Trier, Germany
What kind of websites were you planning to build?
We created a play based on some classical Japanese prose and had a few public performances in our region. To let "the world" know about our performances, we decided to post the history of our ensemble on the internet.
How did you hear about Sandvox?
I read some articles in German Mac-papers: "Macwelt" and "Maclife".
What made you decide to get Sandvox?
Without any knowledge of HTML it was an easy way to create the sites we wanted.
Now that you have Sandvox, what do you like about it?
The sites look professional and answer the purpose perfectly. And it's nice to know that there is efficient support and a good community.
---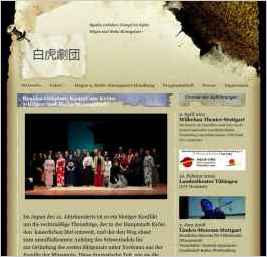 "At the very beginning we had a website on MobileMe with Apple's iWeb - after the end of this service we built a new one with Sandvox and this was a real improvement."