 Location: Monterrey, Mexico
Language: Spanish.
What kind of websites were you planning to build?
He estado construyendo un sitio web como apoyo a la formación universitaria presencial (conocida como "blended learning") para mis cursos de derecho y de docencia jurídica, en México, Perú, Puerto Rico y República Dominicana.
How did you hear about Sandvox?
Las opciones de paquetes de diseño que ofrecía mi proveedor de servicios de hosting no me convencían, pues eran muy limitadas. Busqué algunas alternativas y Sandvox me gustó por ajustarse a mi nivel de conocimiento de diseño web y a mi presupuesto.
What made you decide to get Sandvox?
Encontré que Sandox era un producto muy bien calificado por sus usuarios. Me convenció el hecho de ser fácil de usar, pues yo soy profesor de derecho e ignoro cuestiones de cómputo y diseño. Me convenció también el precio.
Now that you have Sandvox, what do you like about it?
Desde la compra, he estado satisfecho con el producto y con el servicio de apoyo. El producto es actualizado frecuentemente. El servicio es profesional y amigable. El uso del software es sencillo, intuitivo. Lo recomiendo mucho.
What would be a good way to search for a program like Sandvox?
Mejor software para diseño web en Mac
---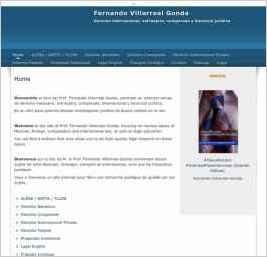 "El sitio del Prof. Fernando Villarreal Gonda, centrado en distintos temas de derecho mexicano, extranjero, comparado, internacional y docencia jurídica."
writing international law aduanas derecho impo