 Location: Naperville, Illinois, USA
What kind of websites were you planning to build?
I had a firm build my website. They decided to exit the business and I wanted to have total control, so I surveyed the web and decided on Sandvox. This is very important to me. This site is for my family owned and operated business that supports myself, my wife, and my fours sons. Mission accomplished!!
How did you hear about Sandvox?
I searched google for "website design software mac."
What made you decide to get Sandvox?
Sandvox has great reviews for someone who wants a nice site, but doesn't want to become fluent in actual writing of html. I had also heard great things about iWeb but that was no longer available, and it seems a lot of iWeb users now use Sandvox.
Now that you have Sandvox, what do you like about it?
It is very easy to use. You know exactly what your web page looks like, every step of the way. It's as simple as that.
What would be a good way to search for a program like Sandvox?
---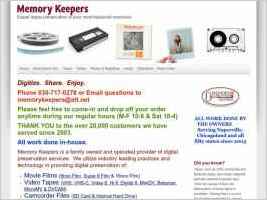 "We consistently get great feedback about all the detailed information we give. This service is extremely important to our customers. They want to be educated about the process and find confidence in a provider for handling their irreplaceable family memories."