 Location: San Francisco, California, USA
What kind of websites were you planning to build?
I only have one website and it has two purposes. I have a blog about interesting things to see and do in San Francisco. The blog is for anyone interested in San Francisco. My website also has photos, movies, and journals from our travels and family gatherings, and the only people who would be interested in them are family, friends, and fellow travelers.
How did you hear about Sandvox?
I found Sandvox by searching Google for an iWeb replacement.
What made you decide to get Sandvox?
I looked at a few other products (RapidWeaver, Squarespace, Adobe Muse, Wordpress, and Weebly), and then choose Sandvox for two reasons. It has the elements I wanted (blog and photo/movie albums), and it was most like iWeb.
I haven't taken time to learn HTML because I'm just doing this one website, and it's just a hobby.
Now that you have Sandvox, what do you like about it?
I like Sandvox a lot. The transition from iWeb was super easy, and I've been able to do everything I could do before. The tutorial videos and Sandvox Help were both really helpful. Setting up the site for publishing went perfectly and changes to the site load really quickly. Over time, I hope to learn how to do more things and to make my site more sophisticated and professional.
BTW, my site is still under construction -- I have a lot more blog entires and photos to add.
What would be a good way to search for a program like Sandvox?
---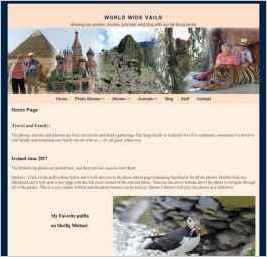 "I chose the design Clockwork Blue because it has a banner across the top and it's simple and uncluttered."