 Location: New York, New York, USA
What kind of websites were you planning to build?
I'm a professional actor in New York. I've needed a simple professional-looking site for personal marketing. (Resumé, Bio, Photos.Video, news about upcoming projects, agent contact info, etc.)
How did you hear about Sandvox?
Articles about replacing iWeb recommended Sandvox, Rapidweaver, and a few others.
What made you decide to get Sandvox?
I tried both Sandvox and Rapidweaver for recreating my iWeb site. Rapidweaver with its "stacks" was more complicated than I needed. Sandvox was more intuitive, much easier to use.
What would be a good way to search for a program like Sandvox?
---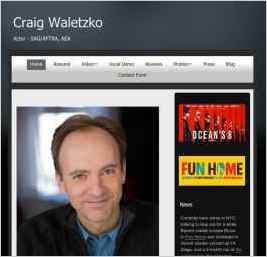 "The design I chose strikes in classy and interesting without distracting from the main product, ME! Also the color scheme goes great with my headshot!"