 Location: Provo, Utah, USA
What kind of websites were you planning to build?
Commercial site for students to find housing.
How did you hear about Sandvox?
I Googled for Mac-based website building apps.
What made you decide to get Sandvox?
Things I valued: cost, ease of use, and the ability to download it.
Now that you have Sandvox, what do you like about it?
Love the helps that are emailed.
What would be a good way to search for a program like Sandvox?
web-building programs for Macs
---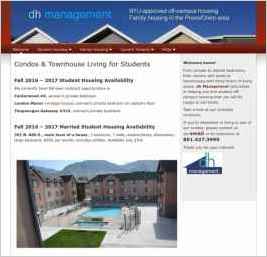 "This is a site for students to find men's and women's contracts for off-campus BYU-approved student housing. Housing options include: the Avenues Condos, Chandell Townhouses, Timanogos Gateway Condos, and the Volleyball Court House south of campus. This site also helps families find family housing..."