 Location: North Wales, UK
What kind of websites were you planning to build?
I have intended to publish a personal web site since I purchased the domain name about 10 years ago. I intend it to be a showcase for my photography hobby as well as a place where I can espouse my thoughts and opinions on a wide range of subjects.
How did you hear about Sandvox?
I found Sandvox after a Google search.
What made you decide to get Sandvox?
I had the choice of three different programs for the MAC OS and choose Sandvox because it had the best write up.I could also have used Dreanweaver CS6 which I have on the PC side of my MAC Mini, but I liked the simplicity of Sandvox and as the MAC OS side of my MAC Mini is purely used for Lightroon 4 it seemed a good fit to have a MAC web design program on the same partition.
Now that you have Sandvox, what do you like about it?
I like the fact that it is easy to link to photographs using the media tool.
What would be a good way to search for a program like Sandvox?
---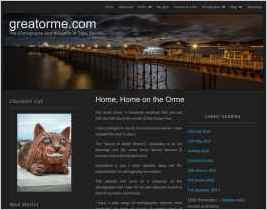 "I choose the design I used for my website as the dark colours compliment the display of photographs and do not cause a distraction."