 Location: Wadworth, Ohio, USA
What kind of websites were you planning to build?
I purchased Sandvox to create websites for my health and wellness coaching business.
How did you hear about Sandvox?
I found sandvox while searching on the Mac store.
What made you decide to get Sandvox?
I chose Sandvox because it seemed very easy and intuitive to use. I got the trial version and fell in love with it. Before Sandvox I was truly planning on paying someone to create a site for me. Sandvox made it so easy and I saved alot of money in the process! Thank you so much for making it simple!!!
Now that you have Sandvox, what do you like about it?
Sandvox is intuitive and easy to use. I am not technologically savvy and I was able to create a decent site in just a few days.
---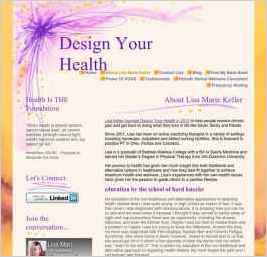 "I do not have any specific story; however, I am so pleased with the program because it made that part of my life so much easier. I do get compliments on my site all the time on how beautiful it is."