 Location: San Francisco, California, USA
What kind of websites were you planning to build?
I wanted to build a website that gave information about my business as a massage therapist and hypnotherapist.
How did you hear about Sandvox?
When I had to switch from iWeb, a friend told me about Sandvox.
What made you decide to get Sandvox?
I chose Sandvox on the recommendation of a friend. I needed a way to create my website that was easy, but still at a certain level of sophistication.
Now that you have Sandvox, what do you like about it?
I like Sandvox because it is easy to use and allows you to still create a website that isn't cookie cutter in its approach.
---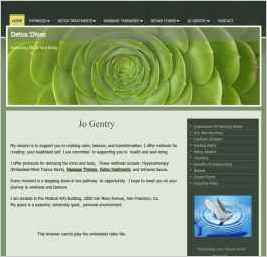 "I receive many compliments about my website. I have designed 2 other websites using Sandvox as a result of people seeing my Detox Divas site."