 Location: San Diego, California, USA
What kind of websites were you planning to build?
I needed a new web site for my Property Management business, as I am now going to be offering online payments for my tenants. I used iWeb before, but the site was never that useful.
How did you hear about Sandvox?
I read the reviews and read what other people were saying about Sandvox.
What made you decide to get Sandvox?
All the reviews were great, and said how easy it was.
Now that you have Sandvox, what do you like about it?
I am a "One Man Show" property management company, and I needed a program I could do myself easily, and update everytime a new rental became available.
What would be a good way to search for a program like Sandvox?
easiest and best web site program
---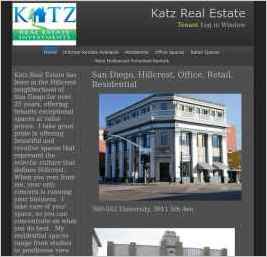 "After completing my website, I am the number 2 listing on Google for Hillcrest Office and Hillcrest Retail rentals in San Diego. Amazing that I was able to do that with the great Sandvox instructions!"
rental retail residential office san diego hillcrest