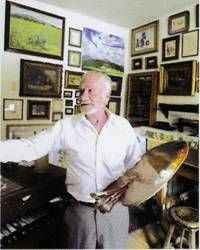 Location: Mexico City, Mexico
What kind of websites were you planning to build?
My website looks to provide a window to my work as painter of Mexico´s countryside, and share the passion that has guided me in the last sixty years of my life.
How did you hear about Sandvox?
I learned of sandbox through an add in MacWorld magazine
What made you decide to get Sandvox?
I chose Sandvox because its ease of use for website building in the Mac platform. It appeared to be simple, straightforward, and the hints and tools were accessible and useful. [I was able] to have my website up and running in no time with my little website development experience.
Now that you have Sandvox, what do you like about it?
I like the Sandvox continuous improvements and updates; the inclusion of new designs for my website; and the ease of use for applying updates and changes to galleries and pages in general.
What would be a good way to search for a program like Sandvox?
user friendly website builder for mac
---