 Location: New York, New York, USA
What kind of websites were you planning to build?
Our company was an early adopter of the Internet and built our first web site in the late 1990's. We have grown and changed in that time period and now needed to refresh the site.
How did you hear about Sandvox?
What made you decide to get Sandvox?
Abilty to use a template driven engine to build the site while retaining the flexibility to add customization if necessary.
What would be a good way to search for a program like Sandvox?
---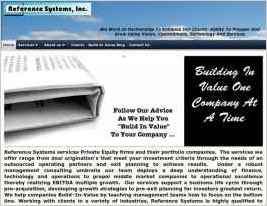 "On our web site Reference Systems describes how we are an integrated service firm centered around the concept that the services we offer must support our mission to "Work in partnership to enhance our clients' ability to prosper and grow using vision, commitment, technology and services"..."
consulting management project financial transition change agent