 Location: Indianapolis, Indiana, USA
What kind of websites were you planning to build?
The Web Site is for a not for profit International Law Enforcement Motorcycle Club, local chapter. This site was built for a local chapter from Central (Indianapolis) Indiana. There are over 20,000 members worldwide with chapters all over the world
How did you hear about Sandvox?
Read Testimonials about it from research on Google.
What made you decide to get Sandvox?
Now that you have Sandvox, what do you like about it?
So far I have been pretty impressed with Sandvox. It took me a couple of evenings to get it up and running. There needs to be more page templates. I am having trouble with placing the page counter where I want it. What help I have seen, hasn't helped much.
What would be a good way to search for a program like Sandvox?
Web Site Development programs for Mac
---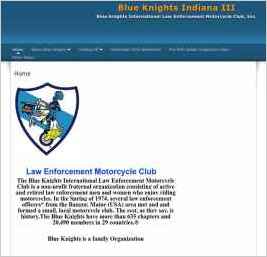 "Information about the Blue Knights and history of Blue Knights Indiana III. Pictures of some rides, slide shows of some events, and recruiting video."
international motorcycle blue knights law enforcement