 What kind of websites were you planning to build?
I wanted to build a new fresher site for my sister, a great proofreader/editor. I had made one for her a few years ago with Dreamweaver and my limited ability with it.
How did you hear about Sandvox?
I found it in my search results, and it appealed to me right off.
What made you decide to get Sandvox?
I chose Sandvox because it looked user-friendly for building attractive websites for my friends and family with features that brought my sites into the 21st century with options for social media, inserting video if I wanted to.
Now that you have Sandvox, what do you like about it?
I like the choice of templates, and wow, the ease of switching them to find the look I want or for a quick change to a site, and I liked the option of buying lessons in how to use Sandvox. This was really helpful to me since I'm a visual learner and not a concept learner, and I love the Inspector which helps me easily keep track of the details!
What would be a good way to search for a program like Sandvox?
---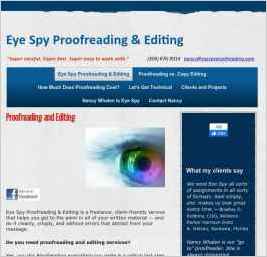 "Most contacts, of course, are for Nancy, the proofreader and my sister, but one day I got a very nice email from someone who was her competition, telling me, the site designer, what a great site she thinks it is. That was definitely a feel good for me. I do this strictly for love, not money, but an..."